Beauty & Self
Books & Music
Career
Computers
Education
Family
Food & Wine
Health & Fitness
Hobbies & Crafts
Home & Garden
Money
News & Politics
Relationships
Religion & Spirituality
Sports
Travel & Culture
TV & Movies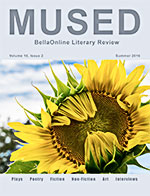 For many people, summertime is the perfect time to explore creativity. Plein air artists bring easels to gardens and beaches, showcasing nature's colors in oils, acrylics, and watercolors. Photographers ferret out a million sights to immortalize. Poets and writers stretch languidly beneath a shady oak tree, listening to the gentle buzz of insects, and constructing entire worlds out of the ether.

Enjoy the creativity of our community of artists - and then explore your own! We'd love to see your works for upcoming issues!

Summer Solstice 2016 issue of Mused

Pomegranate Varieties
Landscaping - Connie Krochmal, Editor

Gardeners can choose from many varieties of the pomegranate. Single and double flowered types are available.




Jigsaw Puzzle Pieces for iBooks Author Widget
Digital Art and Design - Diane Cipollo, Editor

In this tutorial for educators and authors using iBooks Author widgets, we will use Photoshop to create the Jigsaw puzzle pieces for a Drag and Match iBooks Author widget from Bookry.com. We will also create a background image that will be used for all of the games in the iBooks Author book project.




Overwrite this article
Astronomy - Mona Evans, Editor

The Herschel Space Observatory is the largest telescope ever sent into space. It's an infrared telescope named in honor of William Herschel who discovered infrared radiation, and his sister Caroline who worked with him. What's infrared? Who launched the telescope? What did we learn from it?




Avocadoes for July 4th
Allergies and Colds - Sheree Welshimer, Editor

Add some immune-boosting avocado recipes to your July 4th picnic or barbecue




Use Lists for Organizing with ADD
Attention Deficit Disorder - Connie Mistler Davidson, Editor

When you have ADD, you are more creative. However, the trade-off is that disorganization can take precious time from you. That is time that you could spend doing activities that you really want to do. There is a way to take back your time. Make lists to help you accomplish your daily goals.




Blue Bacon & Potato Patriotic Pizza Recipe
Quick Cooking - Karen Hancock, Editor

Stars and Stripes are always in style on patriotic holidays. This pizza is quite unconventional, but it's festive and delicious.


| Google+ |
E D I T O R R E C O M M E N D E D
Simple Delicious Italian Recipes


Simple Delicious Italian Recipes. Authentic Italian recipes easy to follow and simple to prepare, written by Cinzia Aversa, Italian Food Editor at BellaOnline.com. A perfect gift idea for any Italian food lover.
The Eye of Adoption


Jody Cantrell Dyer´s down-to-earth, honest account of her experiences with infertility and the adoption process will have you laughing and crying. Perfect for anyone interested in learning more about adoption!
Christian Living Site Shop


Find book reviews of Christian Books both fiction and non-fiction. Read my experience in purchasing a Bible Book Cover.