Beauty & Self
Books & Music
Career
Computers
Education
Family
Food & Wine
Health & Fitness
Hobbies & Crafts
Home & Garden
Money
News & Politics
Relationships
Religion & Spirituality
Sports
Travel & Culture
TV & Movies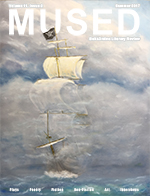 Our time on this Earth is fleeting and precious. We often know that in a vague, intellectual sense, and yet we can find ourselves whittling away those finite minutes without mindful thought. We should celebrate the beauty in a child's smile. The radiant sound of saying "I love you" to that special person. The warm touch of a hand. The delicate scent of a wildflower.

Enjoy the Mused Summer Solstice 2017 Issue



Vegan Sweet Potato Burger Recipe with Dip
Sandwiches - Connie Mistler Davidson, Editor

Too often when I buy meatless burgers, they taste strange, have a weird texture, or they are so expensive, I need to take out a second mortgage to make dinner. These Vegan Sweet Potato Burgers are better than store-bought. They taste great, have a good texture, plus they are cheap & easy to make.




Texas Ranch Life
Senior Travel - Hazel M. Freeman, Editor

Taunia Elick's love of moving, and restoring old homes destined for destruction has helped her turn her passion for saving old homes into some of the most authentic, lovely and historic, lodging found in the Texas foothills.




New Mercy Every Morning
Christian Living - Lynne Chapman, Editor

I'm studying Lamentations 3:22-24 as my memory verse. It isn't easy to understand mercy that is new every morning.




Long-Acting Stimulant Meds for ADD
Attention Deficit Disorder - Connie Mistler Davidson, Editor

This week the news brought word of two new long-acting, stimulant medications approved by The US Food and Drug Administration (FDA) for Attention Deficit Disorder. One, Contempla, is aimed at children aged 6-17 years old. The other, Mydayis, was approved for ages 13-years old to adults.




Herbal Magick- Lavender
Pagan - Ian Edwards, Editor

Learn how to use Lavender in magick and potions.




Some Recommended Walnut Varieties
Landscaping - Connie Krochmal, Editor

A number of walnut tree varieties are available. Here are some recommended varieties.


| Google+ |
E D I T O R R E C O M M E N D E D
EatingWell Magazine


EatingWell is the award-winning magazine that focuses on healthier eating habits for the entire family. EatingWell magazine features articles on subjects such as how to prevent weight gain during the holidays, foods that boost metabolism, healthy budget dinners, and dangerous ingredients that you may not realize you´re eating.
God Underneath


Spiritual Memoirs of a Catholic Priest, By Edward L. Beck. Each chapter contains a scripture passage and personal tales revealing God's presence in everyday life. Fr. Beck is a member of the Passionist community and travels throughout the country preaching and organizing retreats. I highly recommend this wonderful book and have personally attended several of Fr. Beck's inspiring parish missions.