Beauty & Self
Books & Music
Career
Computers
Education
Family
Food & Wine
Health & Fitness
Hobbies & Crafts
Home & Garden
Money
News & Politics
Relationships
Religion & Spirituality
Sports
Travel & Culture
TV & Movies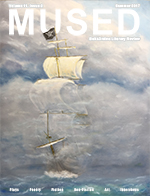 Our time on this Earth is fleeting and precious. We often know that in a vague, intellectual sense, and yet we can find ourselves whittling away those finite minutes without mindful thought. We should celebrate the beauty in a child's smile. The radiant sound of saying "I love you" to that special person. The warm touch of a hand. The delicate scent of a wildflower.

Enjoy the Mused Summer Solstice 2017 Issue



Spanish Vocabulary. The PC and the internet
Spanish Language - Angeles Fernández, Editor

New Spanish vocabulary, this time about the computer and the internet. This article includes three sound recordings.




Wildseed Farms® Fredericksburg Texas
Senior Travel - Hazel M. Freeman, Editor

More from guest author Eve Carr's visit to Fredericksburg, Texas. Fredericksburg offers visitors a wide variety of exciting things to see. For nature lovers, a visit to Wildseed Farms is an absolute must!




Pray Boldly
Christian Living - Lynne Chapman, Editor

How strong is your confidence in our Heavenly Father? When's the last time you prayed boldly? Without hesitation and without second guessing?




Viewing the 2017 Solar Eclipse in Florida
Florida - Georgiana Kurtz, Editor

On Monday, 21 August 2017, the first solar eclipse since 1918 will be visible across the continental U.S. from Oregon to South Carolina. If you view it in Florida, you will see a 70-90% partial eclipse. You must watch it entirely through certified solar lenses.




10 Essential Oil Tips & Tricks
Body Care - BB Lee, Editor

10 Essential Oil Tips & Tricks




Perfect Hard Boiled Eggs recipe
Cooking for Kids - Kymberly A. Morgan, Editor

Hard boiled eggs make perfect snacks for you and your kids. They are portable, fast, nutritional, and will hold you over until your next meal with their protein content. This is a fail-proof recipe that will come out perfect every time. Pair them with a complex carbohydrate for a perfect snack!


| Google+ |
E D I T O R R E C O M M E N D E D
Low Carb Charts


A must have reference guide for any low carber. Keep the carb counts of fruits, veggies, meats, alcoholic drinks and more at your fingertips.
How to Write Descriptions of Eyes and Faces


by Val Kovalin, your BellaOnline editor for the Fiction Writing site. Learn to describe the appearance of the eyes, actions involving the eyes, and how to describe eyelids, eyebrows, and eyelashes. More than 2,000 words explaining 82 color names to assign to eyes. Facial shapes, forehead, ears, cheekbones, nose, lips, chin, and facial hair. Learn how the face shows different emotions, and more!
EatingWell Magazine


EatingWell is the award-winning magazine that focuses on healthier eating habits for the entire family. EatingWell magazine features articles on subjects such as how to prevent weight gain during the holidays, foods that boost metabolism, healthy budget dinners, and dangerous ingredients that you may not realize you´re eating.