Beauty & Self
Books & Music
Career
Computers
Education
Family
Food & Wine
Health & Fitness
Hobbies & Crafts
Home & Garden
Money
News & Politics
Relationships
Religion & Spirituality
Sports
Travel & Culture
TV & Movies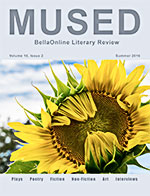 For many people, summertime is the perfect time to explore creativity. Plein air artists bring easels to gardens and beaches, showcasing nature's colors in oils, acrylics, and watercolors. Photographers ferret out a million sights to immortalize. Poets and writers stretch languidly beneath a shady oak tree, listening to the gentle buzz of insects, and constructing entire worlds out of the ether.

Enjoy the creativity of our community of artists - and then explore your own! We'd love to see your works for upcoming issues!

Summer Solstice 2016 issue of Mused

Going to New Delhi, India
Romantic Getaways - Marianne de Nazareth, Editor

The Indian Habitat Centre, New Delhi, is a great place to visit any time of the year




Women's Colleges of California
California - Korie Beth Brown, Ph.D. , Editor

In 2016, the premise of a woman's college may seem outdated. But these institutions have reasons for remaining single-sex.




A Yoga Sequence for Abs
Yoga - Korie Beth Brown, Editor

Crunches don't work them a small part of the core. Here's a yoga sequence that focuses on the entire torso.




Packing Light For A Mexico Cruise Vacation
Cruises - Nancy Schretter, Editor

If you're flying to your embarkation port for a cruise to Mexico, consider packing light. Traveling with just carry-on luggage can help avoid lost or delayed baggage problems caused by flight problems. Here's a detailed carry-on only packing list for a Mexico cruise plus some helpful packing tips.




Rose and Lavender for Botanical Perfumes
Fragrance - Juliette Samuel, Editor

In a world of beauty and scent, no wonder we're being smitten by the bug of making our own Botanical Perfumes. Botanical/natural perfumes are becoming the go-to way of wearing scents.




Biracial Hair Care with Black Hair Care Products
Ethnic Beauty - Juliette Samuel, Editor

How do you care for hair that is not similar to yours? You've got someone in your life with hair that is not the same texture or curliness as yours, it reacts differently to your familiar styling and grooming routines. Keep reading to learn more.


| Google+ |
E D I T O R R E C O M M E N D E D
Experiencing God


The Creator of heaven and earth. Our God is given names in Scripture that describe characteristics of His personality. Experience God through the names given Him in Scripture.
Ultra Luster Waterless Car Wash


Ultra Luster Waterless Car Wash: Article Coming in Spring but you can buy it now! Waterless Car Washing just got easier and the results just got better! Get yours now at: UltraLuster Wash, Phone: 877-677-4463, Email: sales@ultralusterwash.com, distributors@ultralusterwash.com shipping@ultralusterwash.com customerservice@ultralusterwash.com